As part of activities to mark World Menstrual Hygiene Day, a team from WASHforCHANGE NETWORK, which is composed of WASH Professionals, collaborated with the Oheneba Poku Foundation and WASH United (Germany) to organize the World Menstrual Hygiene Day with the theme: 'It's time for action, No More Limits. Yes! Together, we can create a world where no woman or girl is left behind because of her period'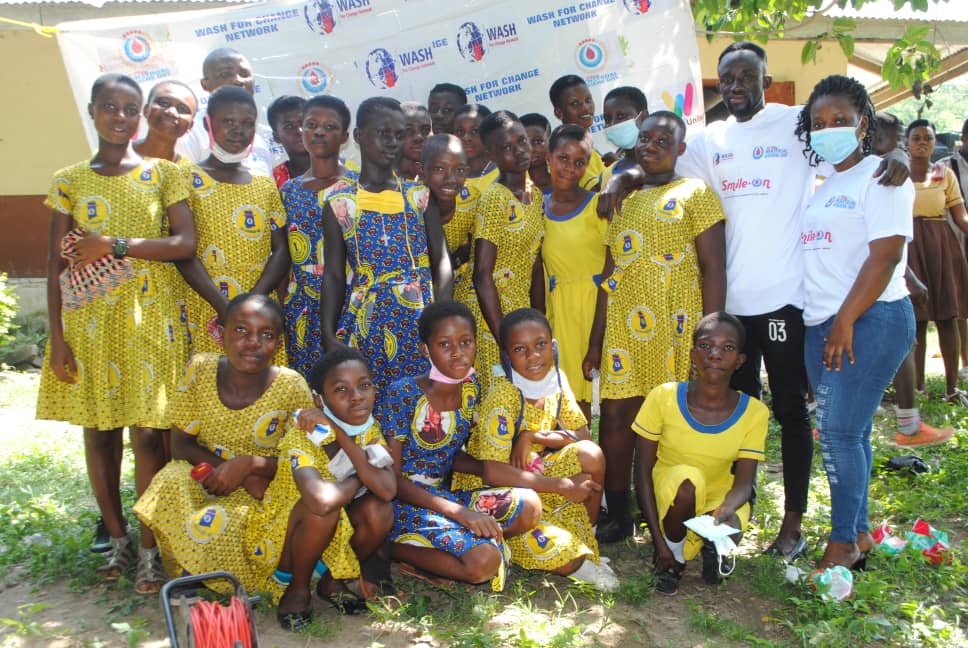 This project was undertaken under our flagship program; Basic Schools Sanitation Initiative Phase II, 'SMILE ON' Menstrual Hygiene Management Project which seeks to encourage girls and young women to embrace the challenges that come with menstruation by providing hygiene education and free sanitary pads for at least 500 girls and young women in Abono, Obo & Adwafo Basic Schools & JHS.
In consonance with the theme for the year, boys were included in our project so they are enlightened and disabused from stigma and taboos associated with menstruation.
A total of 100 pupils (from Basic 4 to JHS 3) were trained on Menstrual Hygiene Management, encompassing:
Use of hygienic sanitary material at regular intervals( 3 to 6 times daily)
Proper disposal of used pads
Proper handwashing with soap and water at critical times
Regular self care and general personal hygiene
Further, research has shown limited access to hygienic facilities during this special time of pupils hinder their education through absenteeism and lack of confidence.  To curb this,  WASHforCHANGE Network, donated Veronica buckets (for hand washing), bins and other sanitation facilities to the schools to improve sanitation conditions.
We would strongly advocate and recommend that, in order to improve  'Access' to good menstrual hygiene in our schools, the GES and Local Authorities should consider fitting the  necessary logistics in the washrooms of the Basic Schools.  We also call on philanthropists, old school associations and other societies to endeavor to commit to helping upgrade basic schools' lavatories to menstrual friendly ones.
More importantly, 20% import taxes on sanitary pads/towels should be scrapped since it should not be classified as a luxury good. This will ensure affordability for our young girls since #menstruation is not by choice! But a very important woman phenomenon.